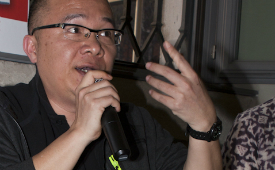 Ou Ning mi spaventa una sera a cena, dichiarandomi l'intenzione di cercare un incontro con Toni Negri quando visiterà Parigi, in aprile. Di tanti, proprio lui? Provo a spiegargli i danni (eufemismo) fatti nella seconda metà dei Settanta da questo ineffabile professore, che lasciò dietro di sé una scia di delitti e qualche migliaio di ragazzotti in galera, e si accomodò poi nella bellissima Parigi.
Gli dico anche: ecco, se devo fare un paragone, per la sua arroganza e violenza, per il disprezzo dell'avversario e per il fanatismo, Negri mi fa pensare alla vostra Rivoluzione Culturale: che fu ribellione contro la burocrazia, ma presa dal lato sbagliato (eufemismo).
Ou Ning (che come tanti nel mondo lesse Impero, bigino e instant book no global del professore, che mettendo in fila buoni pensieri elaborati da altri migliori di lui si vide così moltiplicata d'acchito la quota di mercato), mi capisce: certo, dice, prima di scrivere del presente, avrebbe dovuto "chiedere scusa per il passato" (locuzione che immagino sia una traduzione abborracciata nel suo inglese scarso del "fare autocritica" in cinese).
Perché la ribellione che cerca Ou Ning è sicuramente differente. La sua Chutzpah (qui c'è anche una sua buona biografia) è una rivista di letteratura pura, nonostante il nome (parola che in yiddish significa "insolente", o "faccia tosta", e che lui riproduce senza però una particolare vocazione alla storia dell'ebraismo: lo fa così, gli piace il termine).
Intende portare all'attenzione del pubblico (in parte internazionale perché al suo interno l'inserto Peregrine traduce ogni volta tre o quattro racconti in inglese, dei trenta che Chutzpah presenta in cinese) la generazione di quarantenni, a suo dire schiacciati tra i più vecchi nomi noti dell'editoria internazionale (ad esempio Mo Yan, e poi a cascata Yu Hua, Yan Lianke, Su Tong, Bi Feyu) e la generazione del giovanissimi, mezza sesso e rock and roll, mezza blog (tra parentesi, Ou Ning mi parla malissimo di Han Han, che secondo lui è una versione edulcorata del potere, un ribelle di facciata, e quando invece gli chiedono chi sia il migliore scrittore cinese contemporaneo dice senza esitazione: Zhu Wen! Come a dire: Metropoli d'Asia ha il meglio e il peggio).
La generazione che interessa a Ou Ning è quella nata nei primi settanta: la sua, che da giovanissima ha visto le timide aperture della censura nella seconda metà degli Ottanta, e si è poi schiantata contro la repressione di Piazza Tian an Men.
E questa generazione oggi osserva e rendiconta con favore ciò che si muove nel paese di mezzo, su tutte la ribellione di Wukan: una cittadina intera che scende in piazza contro la corruzione dei dirigenti di partito locali.
Ou Ning quindi, che è stato a Milano ospite del Festival del Cinema Africano, d'Asia e d'America Latina, cerca incontri con i ribelli d'Europa (da un punto di vista intellettuale, certo): a Roma andrà al Teatro Valle Occupato, a Parigi s'è detto, a Milano Stefano Boeri gli promette un incontro coi Wu Ming che però non si realizza. Dopo il rush milanese, purtroppo, parte in fretta per Londra (e chi incontrerà laggiù?).
Io passo quindi qualcuna delle mie giornate a ruminare, in ritardo: ma chi avrei potuto presentargli, io? Cosa avrei potuto dirgli? Come indirizzarlo su intellettuali, scrittori, artisti consci del fatto che le ribellioni e le rivoluzioni comportano sempre un pericolo: non solo l'eterogenesi dei fini, ma banalmente la costruzione di leaderships orrende (i miei conoscenti fine anni Settanta in Italia si dividono grosso modo in due gruppi: quelli che hanno sfiorato la criminalità politica e si sono adagiati su un proprio fallimento, e quelli che direttamente si impiegarono a Mediaset; schematizzzo, è ovvio: ma come si fa a fomentare una ribellione che in sé contenga i germi del meglio e non del peggio? This is the question). Discorso che vale per tutti i no Tav nostrani, e grillini, o chissà che.
Eppure lui, loro, gli elementi per starci attenti ce li hanno: appunto, la Rivoluzione Culturale, quando Mao diceva "la rivoluzione non è un pranzo di gala", e il risultato furono orrori e vite spezzate, in cambio di nuovi equilibri negli apparati dirigenti (tipo: un Berlusconi al posto di un Andreotti, un Bossi al posto di un Almirante o di un Toni Negri, magari un Di Pietro al posto di un D'Alema, e chissà cosa ci riserva l'oggi). Ou Ning, vorrei dirgli: perchè il rappresentante dei ribelli in Cina è stato Bo Xilai (oggi silurato), che dichiarava di rifarsi all'ortodossia maoista?
E di nuovo: chi gli faccio leggere? Chi gli faccio incontrare? Un manciata di nomi: Colin Ward, ma crederete mica che basti. E a Roma avrebbe potuto incontrare Pascale, Piccolo, quelli de Lo Straniero, forse. E sopratutto: io chi incontro? Chi si ribella sapendo nessuna Causa giustifica nessuna Schifezza, che le rivoluzioni non riguardano i fini, ma i mezzi? Ou Ning, questo potrebbe essere il vostro ruolo: prevedere e precedere la degenerazione dei movimenti, mettere in guardia fin d'ora.
Ma ora: pausa. Questo post poteva avere un altro incipit. Avrei scritto:
Ou Ning, a Pechino, una sera a cena mi racconta dei suoi anni ottanta. "Eravamo giovanissimi, e allora chi poteva viaggiare in Cina era fortunato. Se arrivava a Pechino qualcuno da Nanjing, passavamo le nottate a parlare di filosofia, di letteratura. Bevevamo. Alla fine ci conoscevamo tutti, poche centinaia di ragazzi usciti dalle università, ci sembrava che il futuro fosse a un passo. Il primo Deng Tsiao Ping aveva aperto il nostro paese: improvvisamente si discuteva senza paura." Mi dice: si fumava tantissimo.
Quando provo a domandargli di Piazza Tian an Men, come al solito svicola. Fa finta di non sentire la domanda: l'ho capito, puoi essere ovunque, Pechino, Milano, o Singapore, puoi essere davanti a un pubblico con un microfono in mano o davanti a una salsiccia, io, lui, e la sua fidanzata, ma è sempre la stessa cosa: di quello non si parla. Criticare la Rivoluzione Culturale è possibile, e il potere, la corruzione, i singoli leader di partito, o la manutenzione ferroviaria e la distruzione dei generi alimentari. Ma silenzio sulle three T (Tian an Men, Tibet, Taiwan) one F (Falun Gong). E quando gli chiedo di Wukan, della rivolta di una cittadina intera, lui svicola: e, appunto, si finisce su Bo Xilai.
Insomma, ribelli con il limite: ribelli davvero.
Bello: questo sì un ponte tra l'Occidente e l'Oriente, loro e noi alle prese con una rivolta, e con la necessità di farle partire con il piede giusto, ciascuno con un passato che di riferimenti è pieno.
PS: Berardinelli sul domenicale del Sole24 la settimana scorsa, dentro a un articolo fortemente condivisibile, scriveva: in occidente oggi avremmo bisogno di un Lenin, o forse di un Ghandi. Hmm…: ma non dovremmo cercarci di meglio, noi e i cinesi?
PPS: con Ou Ning ci siamo dati appuntamento il più presto possibile, a Pechino. Sperando di trovarlo libero e non blindato…
Foto: Alessandra Vinci